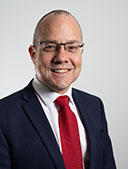 Shaun Vokes
BBus, CPA
Chief Executive Officer
Shaun joined Talisman in February 2016. He is a finance professional with over 27 years' experience in the metalliferous resources industry gained predominantly in senior operational and management roles within Australia and Africa.
Prior to joining Talisman, Shaun spent five years as Manager, Business Services/CFO for Kabanga Nickel Company Ltd in Tanzania. Shaun's experience includes project evaluation and financing, business development, contract negotiation, metals marketing, risk management and corporate and financial governance for both private and ASX-listed entities across a range of base and precious metals.
Shaun is a graduate of Curtin University and holds a Bachelor of Business degree and is a member of the Australian Society of Certified Practicing Accountants.
Russ Gregory
MGeoSc, BSc (Geology), MAIG
Exploration Manager
Russ is a career geoscientist with over 15 years experience across a variety of technical and operational geology roles, joining Talisman in August 2021.
With exposure to a wide commodity portfolio including manganese, iron ore, copper, gold and nickel both domestically and overseas, Russ has wide-ranging experience in pre-feasibility studies for mining and infrastructure, management of remote exploration operations, community stakeholder engagement and acceleration of exploration opportunities. Before commencing with Talisman, Russ was Principal Geologist – Greenfields Exploration for Rio Tinto Exploration Australasia, where he was part of the team that discovered the Winu Copper-Gold deposit in the Paterson region of Western Australia.
Russ graduated from the University of Western Australia with a Masters of Geoscience and Bachelor of Science (Geology) and is a member of the Australian Institute of Geoscientists.
Alex Neuling
Company Secretary
Alex is a Chartered Accountant and Chartered Secretary with extensive corporate and financial experience including as Director, Chief Financial Officer and / or Company Secretary of various ASX-listed companies in the mining, mineral exploration, oil and gas, and other sectors.
Prior to those roles, Alex worked at Deloitte in London and Perth. Alex also holds an honours degree in chemistry from the University of Leeds in the United Kingdom and is principal of Erasmus Consulting which provides company secretarial and financial management consultancy services to a variety of ASX-listed and other companies.